Summer is almost officially over, the kiddos are back to school, and we will soon be bombarded with Christmas shopping specials and promotions. All this means a new year is right around the corner (at least in terms of business months). The beginning of a new year also brings lots of articles on things you need to do to your website.
But with a little prep and a solid process, there is no need to stress as another year begins because you (and your website) will be ready to kick 2020's butt.
Before I get into the five tips, let's quickly touch on maintenance for your website. Stop putting these tasks off until a new year rolls around, or worse, your website stops functioning. I have a handy maintenance checklist that is sure to give you a good start, and if you don't feel like reading to the end, at least download and use it.
Providing services to our clients allows them to focus on their customer needs and not their website needs, so keep reading as we talk about five things you can do now to make your website ready for the holiday shopping season and a new year.
1. Freshen Up The Look
Did you know that the shelf life of design is 2-3 years? Technology changes at light speed. Look at the WordPress changelog, and you'll see that what's changing. Version 0.70 is nowhere near today's version. That means if your theme developer is not keeping up to speed, you may have the functionality or security problems.
If you're using trends of aesthetics from 1999, your website will look old and dated. Each year there are new trends, and upcoming currently are micro animations (small movement activities), organic shapes (not involving straight lines), and minimalism.
Looks aren't the only factor to consider. You want to be sure your site loads fast (under 2 seconds) and is mobile responsive. Mobile searches overtook desktop searches way back in 2015, and since the beginning of 2017, Chatbots have been another popular feature since we want instant everything, including responses.
Other things you can do to help freshen up your website:
Expand your color palette
Pick a more web-ready font
Get updated headshots taken
Remove cheesy stock photos and replace them with unique images
Add negative and white space (removing clutter)
Pair down your navigation using simple, smart choices
Pro Tip: Not every redesign consists of burning it to the ground and starting over. Page builders and Gutenberg allow you to create unique page layouts and restructure content on a page.
2. Review Your Analytics
As a numbers girl, I don't obsess over my traffic numbers, but I'm always aware of them. Your analytics information can give you a hint into what's working and what's not. It's time to reflect on how things are going.
Begin by comparing past page views with current views to see how much your traffic is increased (or decreased). If you're just starting, make note of the current trends and traffic patterns. If you notice traffic is not increasing, it's time to take some action and step things up.
You can also take a look at the devices your people are using and their browser of choice. You may notice many people are browsing on mobile devices; look at your site through that lens and make tweaks and improvements there.
Don't forget the keywords that people are searching for to land on your site. The keyword information can help you shape your editorial calendar for the coming year.
Add in referrers (where the traffic is coming from) to see if you need to up your promotional or social game. They may never find you and your awesomeness without telling people about yourself and your offers on different platforms.
Pro Tip: Create reports and have them sent to you by email on a monthly basis so you can shape
3. Audit Your Most Important Pages
You've spent time and energy on your website page content, but that doesn't mean you can set it and forget it. What was relevant and up to date at the beginning of the year may not be today; it's time to pull those weeds and plant some new flowers.
Look at your top pages (hint: find those in analytics) and be sure that the content is still useful today.
Put on your list to look at your About page and your offers at least once per year. Are they clearly communicating who you serve and how? Hopefully, you are growing and changing as the year goes on, and your content needs to reflect that.
Testimonials are an easy way to add new information. Do you have more happy clients that aren't being featured on the pages? It's time to get information from people who you are helping with case studies and portfolio pieces.
Also, check out your calls to action. Do they reflect the offer you are promoting? Are you asking people to sign up for a PDF download that doesn't reflect your style and knowledge? Now would be a great time to change that to keep your brand consistent.
Auditing your pages once a year can be tedious, but you want to ensure that your site reflects everything you have to offer.
Pro Tip: Create a master plan to audit your site regularly, including pages, posts, and calls to action. Chucking it into monthly or quarters is not so overwhelming at the end (or beginning) of the year.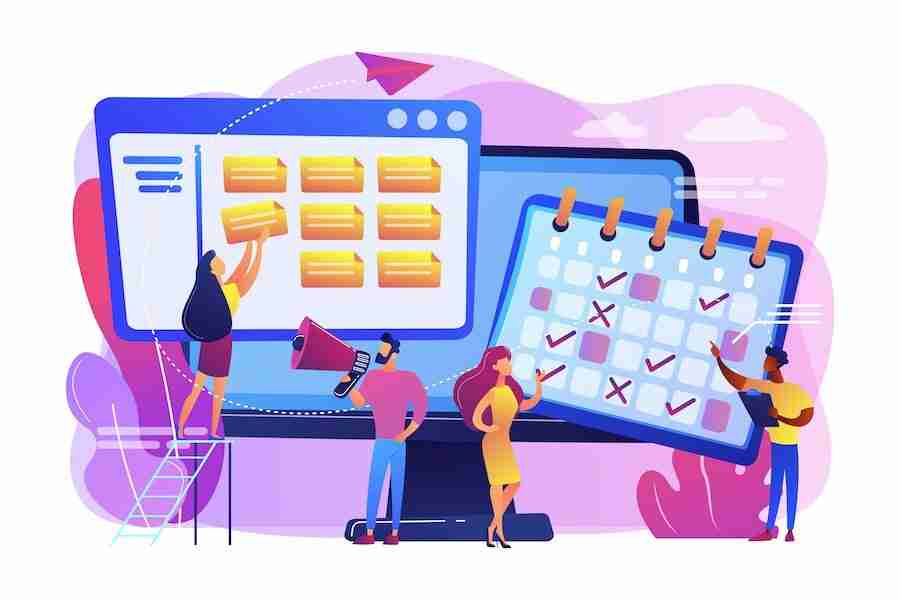 4. Get Your Editorial Calendar Ready
The new year is about making plans and resolutions. Plans stick, and resolutions seem t go by the wayside, so make a plan to flesh out your editorial calendar. Start by setting your goals for the year – promotions, offers, growth, sales and then pick content to market your goals.
Use the analytics information to help you get started. Having topics and ideas fleshed out each month will help you create (and update) content on your site and blog.
Don't forget to ask your audience what they would like to see or their unanswered questions. And be sure to factor in a repurposing of the content so you have a variety for each type of content consumer.
Pro Tip: Set aside a day or two so that you can concentrate (without interruption) on your plan.
5. Review Your Maintenance Processes
Hopefully, you have a process for maintaining your website, starting with the essentials and moving to long-term growth.
Part of my regular tasks is to do a visual check of the site so that you know the pages are properly loading and forms are working; mobile viewing is seamless, and removing old users is.
Don't forget to look at your web host to ensure they maintain their servers and give you access to items you need, like SSL and staging. Maintenance is more than running a backup and updating plugins.
Following a checklist or documented process will allow you to make sure the little fall-between-the-cracks items are getting done.
These five things are only part of what you should be doing regularly to maintain a healthy website. It's good to remember that maintenance means prepping for growth and not the status quo.
Are you using your website for the powerful marketing tool it is meant to be?