What if you knew exactly what to work on when designing or working on your website? Like the ultimate insider tips to creating something amazing?
We all know that speed and functionality are key to a website that works, but site owners often focus on the numbers or letter grades, or performance instead of what is really important to the visitor. – usability. With a few simple adjustments to your content and website, you can also have happy visitors that find what they need.
Here's the deal – it's not too terribly difficult once you know the marks to hit, and I can help you understand those in the next few minutes.
The bottom line is that your website takes work and planning and thought. And most important of it all, it MUST be user-friendly.
When we first started camping in our RV, the dealer helped us pick the perfect unit. Now I've camped most of my life, so I thought I knew it all. Yet, there were small things that only seasoned veteran RVers knew I was not privy to then.
While they were not life-or-death road trip adventures, they certainly made life that much easier. Who would think that Correlle-type dishes were a must-have in an RV? They are virtually indestructible (virtually because I did manage to shatter one), and they are lightweight.
When traveling on the road, you must meet the weight requirements of your rig, both dry and loaded (empty and full), so that you don't put added strain on your vehicle and it tows correctly. Speed and security are important to a website.
It's equally important to keep life simple and uncomplicated, like eating off a solid plate that holds up to elements.
As relevant as this information is when packing up an RV, the following is relevant to having a website appealing to the user to find the solutions they seek out.
Start with the basics of user-friendliness.
Usability is designed to allow your users and visitors to find what they need and to take the desired action.
But one thing that can't be skimped on and will surely cause people to turn up their noses at your website – is usability. Usability is defined as "The extent to which specified users can use a product to achieve specified goals with effectiveness, efficiency, and satisfaction." (Wikipedia)
Website usability is a term used to describe "user experience" and refers to the ease of access and/or use throughout a website.
Usability also includes accessibility which is the most overlooked part because many people don't think this applies to them or their businesses. But, according to CDC, 26% (or 1 in 4) of adults in the US have some disability. So that's a lot of people who could be visiting and using your website.
Couple that with our impatience; if you're not factoring in usability to your website design and ongoing maintenance, you can lose out on some serious business.
What should you factor in for your website to be meaningful and provide a valuable user experience?
Useful: Your content should be original and fulfill a need
Usable: The site must be easy to use
Desirable: Image, identity, brand, and other design elements are used to evoke emotion and appreciation.
Findable: Content needs to be navigable and locatable onsite and offsite
Accessible: Content needs to be accessible to people with disabilities
Credible: Users must trust and believe what you tell them
When reviewing usability, you need to know the following:
Website speed performance metrics
Content complexity
User behavior
1. Website Speed and Performance
While this first suggestion is more in the development and implementation phase, it is a big decision item. Finding the right host is key to optimizing your website for speed and performance.
Your site needs to be available or up, so server uptime is key because if your server is down or has problems, then a visitor can't see your site; the rest is a moot point. Most hosts guarantee an uptime of 99.9%, but not all hosts are created equal because they overload their shared servers with too many sites.
Often, we choose a host based on price instead of features and support availability. You need to change that thinking; if you are always having problems with your host, spending time on the phone with support, or hiring someone to handle server issues, is it worth the money you are saving?
Speed is also an important factor for performance because slow load times are among the most frustrating experiences for users. No one wants to wait too long for pages to load, which interrupts the user experience. When a visitor has to wait for the page to load, chances are they will bounce after 3-5 seconds.
To end the frustration of slow load times, start by compressing your images (before you load them onto your website) and making sure the sizes are correct. Image files are one of the contributing factors of added load tied to a website.
And remember to use plugins sparingly and wisely. Don't add plugins to add some fancy thing to your website. Be sure that every plugin adds to the user experience. The same goes for your theme. Premium and well-coded themes with only the functionality you will need are always a wise choice.
Performance is just the start of the usability piece of your website.
2. Complexity of Content
Your website is comprised of assets, and those assets make up the complexity of your content. Therefore, you need to be concise with both your message and your content when it comes to your content.
We sometimes think the more content, the better, especially for SEO reasons. But the reality is content is only helpful if it makes sense and is useful for the audience. To do this, you need to understand the user journey.
You want to avoid industry jargon and meaningless, boring content. Also, remember that bigger is not always better; in other words, that is.
Keep your paragraphs short, with three to four lines maximum. And don't forget to use headlines that convey value. And don't forget to place images in places that will enhance the content.
You want to focus on the key points and keep your thoughts organized. Try to think like your audience because sometimes, we tend to overcomplicate the subject as experts.
Simplifying content with stories and anecdotes will help your user understand the topic differently and relate to the emotions of the content.
Remember, if the topic is complex, you can segment or serialize the content into different components, making the abundance of information easier to understand.
Great content doesn't need to be hard to understand or overwhelming.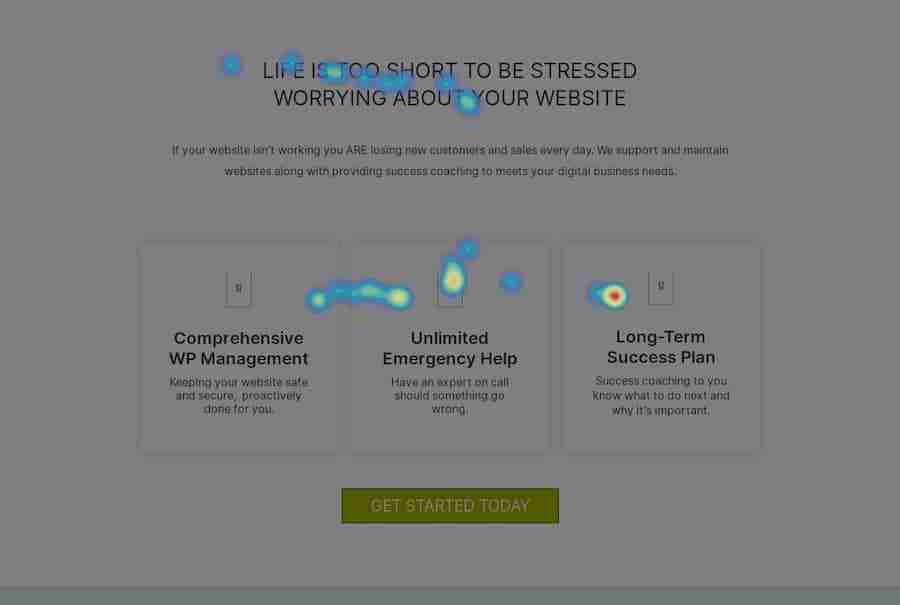 3. User Behavior
The third part of the usability puzzle is creating a friendly and cohesive website. User behavior refers to visitor engagement with clicks, scrolling, reading, submitting information, and more.
You need to focus on what's important to the visitor and guide them to what they may be looking for.
Plan your website sections and categories carefully to make the information easy to find. You should always think from the user's perspective, especially if the content is plentiful.
Understanding your analytics will help you determine user behavior like pages visited, bounce or exit places, and conversions. You want to review all the pieces of the user information flow.
It would help if you also concentrated on simplicity. Focus on what's important and keep it simple. Anything that will distract the visitor will keep them from what you want them to do or, worse, frustrate them because they don't know what to do or where to go next.
One way to help keep things simple is practiced familiarity. Stick with what people already know, including layouts of pages. Looking for inspiration is a good way to plan a website, and there is nothing wrong with seeing what others have to offer. As long as you aren't copying, you'll be safe with finding what works for others.
Being consistent helps too. Don't get too cute. Visitors don't want to guess what you are saying or where to find things. That's why website themes include headers, content areas, and footers in the same areas. We can easily turn our visitors into prospects and clients when we don't make our visitors think.
Finally, take your visitor by the hand and guide them through your site. Please don't leave your visitors to explore the site all willy-nilly because chances are they will not find what can be helpful to them. Instead, show your potential clients what you . have to offer as a solution.
What makes up a successful website?
Successful websites are always customer-oriented at their core. If you help your customers solve a problem or address their pain, they will love the website and reward you with their business. Take them on the journey of finding the answer without too many disruptions or interruptions.
Not sure if you are on the right track? We can help review or redo your website.