WordPress SEO Plugins – Tools for Optimization
WordPress is already an SEO friendly framework, and you certainly don't need a plugin to rank in the search engines with the creation of good and useful content. But like any tool in the toolbox, an SEO plugin sure will help you to make sure you've hit all the parts of an SEO friendly page.
With every tool, there are favorite of different crowds and many viable options that work great for the user. It's all about comfort. The SEO optimization plugin of your choice should make the job easier for you not more stressful. So use what works for you or your team and if you already have a favorite, then start to focus on improvement and not to find a different SEO plugin.
Now let's get started by talking about some necessary features of SEO for WordPress whether you're using a plugin or not.
Necessary WordPress SEO Features
Structured Data is code in a specific format that the search engines understand. Google uses structured data that it finds on the web to understand the content of the page, as well as to gather information about the web and the world in general.
Meta Descriptions provide a summary of the page or post. Search engines often display this information as part of the search result from a user inquiry. Generally, 160 characters in length, this description can mean the difference between a click or not.
Open Graph metadata is what integrates your web page with social media sharing. Most of the SEO plugin does this for you automatically so you can display more accurate content to a social site. There are four parts to the basic metadata – title, type, image, and URL.
XML Sitemap is a protocol that informs the search engines about URLs on your website that are (or not) available to crawl. They act as a roadmap, which leads the bots to the important pages and information on your website. XML is a markup language used to describe the data.
Optional WordPress SEO Features
Redirect Manager allows for you to tell the search engines to send your visitor to the correct page. Redirection comes in handy for many reasons including a page where the URL has changed, someone linked to you with the wrong URL, or a page is no longer available on your site. There are many different kinds of redirect, but the most popular is the 301 (permanently moved).
404 monitoring gives you a list of pages and URL that are not available to the user and says to the webserver that we can't find this file. Despite what you may have read, they are mostly harmless and easy to fix. It comes down to fixing these issues because you never want your user to have a bad experience on your website.
Page Speed Insights is a report that shows you how your page is performing (on both mobile and desktop). You want to be sure your page loads as quickly as possible without error. Google is now using the mobile benchmarks are part of the ranking algorithm.
These pieces of the SEO optimization puzzle are not the only parts to pay attention to because there are other things like keywords and alt-tags, custom post types, and more.
Having an SEO plugin will help you to be sure you've hit the some of the marks. The recommendations are just a very nicely laid out "checklist" for your SEO optimization. As my favorite SEO teacher Brendan Hufford said, they are like sticky notes to be sure you're doing your best to optimize your page.
Let's dig into some of the many SEO plugins available to you in the WordPress repository.
WordPress SEO Plugins
SEO Press
SEO Press is a WordPress SEO plugin that is both lightweight and featured. What I love about SEOPress is that it supports both custom post types and WooCommerce and for a small fee (disclosure: I got a lifetime deal a while ago) you get all the Pro features, unlike its competition.
Yoast SEO
Yoast is by far the most popular SEO plugin for WordPress but as of late has gotten some impressive competition. The Yoast SEO plugin has been around for a long time If you're a Gutenberg user, Yoast has a cleaner sidebar for you to check the page/post-optimization.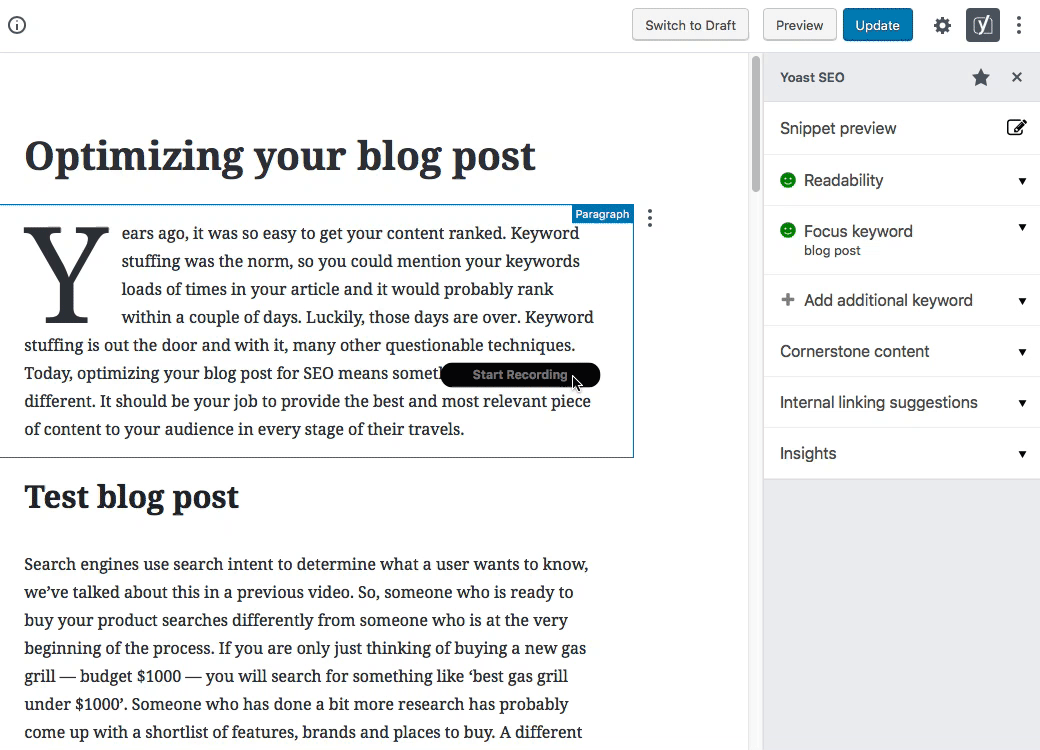 Rank Math
Free level
Rank Math SEO plugin helps YOU optimize your content for search engines and outrank your competitors. Rank Math has a very friendly interface and is optimized for speed so it won't weigh your site down.
Action Steps For SEO Optimization
Begin with an SEO strategy, and only picking keywords is not a strategy. An SEO strategy is a process of organizing your content by topic to help your audience easily find the information they need.
Design your SEO Process:
Make a list of topics you create content for.
Find keywords: focus keyword, short and long-tail based on the topics.
Create amazing and useful content that is helpful to the reader.
Blog regularly to develop authority.
Install the SEO Plugin to guide you in optimizing the page.
Follow the suggestion of any pieces you may have missed like meta description or social card.
Measure and track your results and success.
Rinse and repeat.
SEO optimization is a smart processes for you (and your team) to consistently follow and improve upon. Fresh relevant content is part of a good plan to keep you front and center of your audience.