SSL stands for secure sockets layer.
If you run a small business, you might be familiar with the term SSL certificate but unsure what it does. What is it, and how can it help your website? In this blog post, we'll explain an SSL certificate and why it's important to have it on your website.
What is an SSL certificate?
An SSL certificate is a digital certificate that creates a secure connection between the web browser and a web server. SSL stands for Secure Sockets Layer, the technology used to create a secure connection.
The certificate is a small data file installed on your web server that provides a secure connection between the server and the browser.
When a user visits a website with an SSL certificate, their web browser will verify that the certificate is valid and that the website is who it claims to be.

Once the SSL certificate has been verified, the user's web browser will create a secure connection with the website. Any data transmitted between the user's web browser and the website will be encrypted and kept private.
Remember this: When browsing the web, you want to be sure that the lock exists before inputting any of your information on the website, especially sensitive like payment data.
Why is an SSL certificate important?
You want to make sure your customers' data is always safe and secure. The certificate is like a digital bodyguard, protecting your customers from hackers who might try to steal sensitive information.
Here are some other great reasons to have one installed on your site:
Protecting your customers' data
Most business websites collect some data from the visitor. The goal is for them to become clients, so you're likely to collect some data, whether it's their name, email address, or payment information.
The SSL certificate helps protect that data by encrypting it as it is transmitted between your web browsers and the website's server.
Basically, it means that if someone intercepts the data in a transmission, they would not be able to read it. When you enter a password into the input field and see ******* as you type – it's the same concept.
Establish trust with your customers.
When you land on a web page that doesn't have SSL enabled, you may see a warning that the website is not secure. It makes you stop and think, right? This is a red flag for customers and may make them not even visit your website, let alone provide personal information.
Having an SSL certificate (and https) on your website helps establish trust by showing your customers that your data is protected and you're looking for them.
Improve your website's search engine ranking.
Google has stated that having an SSL certificate can boost your website's search engine rankings.
A 2021 study by Backlinko analyzed over 1 million Google search results and found that websites with an SSL certificate were more likely to rank higher in search results than websites without one.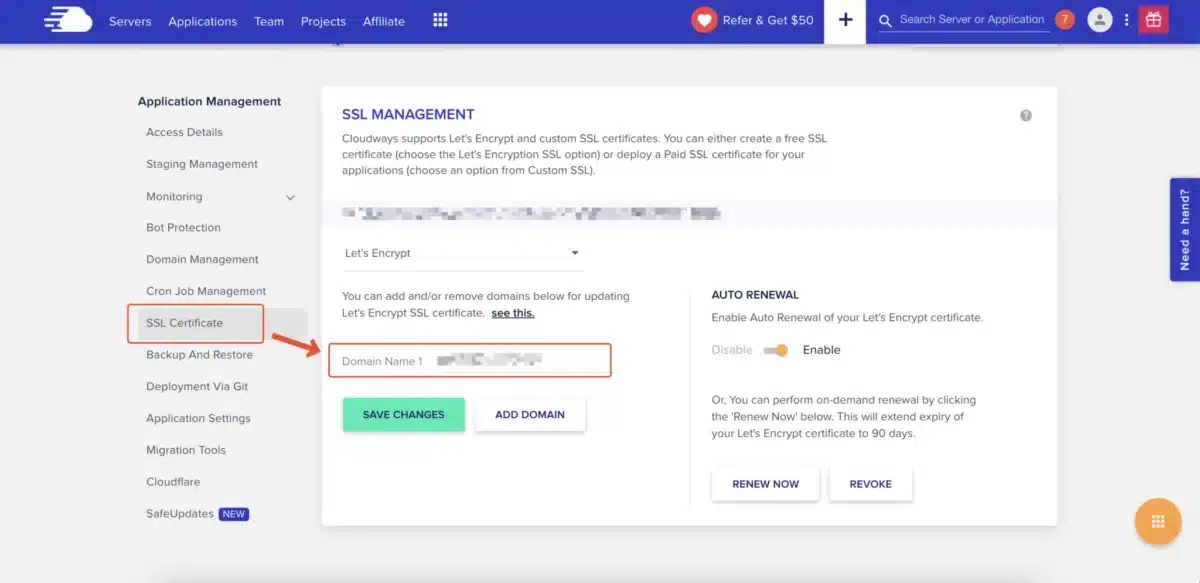 This is because Google wants to promote websites that provide users with a secure and safe browsing experience. While it's just one factor that Google considers when ranking websites, it's still worth considering if you want to improve your website's search engine ranking.
How do I get an SSL certificate website?
Step 1: Check if your web hosting provider offers SSL certificates
Before you can get an SSL certificate for your website, you need to make sure that your web hosting provider offers them. Most web hosting providers do offer certificates with easy one-click installations.
Step 2: Choose the type of SSL certificate you want
If your web host offers a free SSL certificate, you may be limited to a specific type of certificate. One of the most popular free SSL certificate providers is Let's Encrypt, which offers domain-validated certificates.
These certificates are easy to obtain and verify that you own the domain name for your website. If you're on a budget, this may be your best option.
However, if you're looking for a higher level of security or need an SSL certificate for an e-commerce website, you may want to consider purchasing an organization-validated or extended validation certificate.
Step 3: Activate the SSL certificate
After you enable or purchase the SSL certificate, you'll need to activate it on your website. Most web hosting providers have instructions on how to activate the certificate, and the process may vary depending on your provider.
To get an SSL certificate for your website, you typically need to enter your domain name and make sure that the name server or DNS records point to your hosting account. Once you've done that, you can add the SSL certificate to your website.
Step 4: Update your website to use HTTPS
After activating the certificate, updating the permalinks to HTTPS instead of HTTP is important to ensure your website is fully secured with the SSL certificate.
There are a few ways you can do this, including:
We prefer the search and replace or changes to the database option as well as using the htaccess method as a fallback.
Step 5: Test the SSL certificate
After activating the SSL certificate and updating your website to HTTPS, it's important to test the certificate to ensure everything works.
You can use several online tools to test your SSL certificate, such as SSL Checker, DNS Checker, or Why No Padlock.
Get a Certificate Installed
Getting an SSL certificate for your website is important in protecting your customers' data and establishing trust with your website visitors.
Most web hosting providers offer SSL certificates, and obtaining and activating one is straightforward. By following these steps, you can get an SSL certificate for your website and help ensure that your website is safe and secure for your customers.
It provides a layer of encryption between your website and your customers' web browsers and can improve your search engine rankings and prevent visitors from leaving your website due to security concerns.
By following the steps outlined above, you can get an SSL certificate for your website and ensure that your website is safe and secure for your customers.
So, what are you waiting for? Get started on securing your website today!